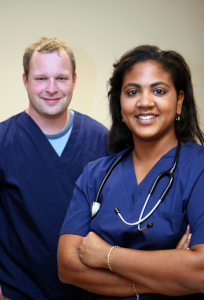 "I'm a nurse, why do I need to know Spanish?" When you know Spanish, you increase your marketability if you are looking for work and your job security if you already have a job. Typically, you do not have be completely fluent in Spanish; you just have to be communicative.
We are offering a series of two 2-day workshops. By participating in these workshops,  you instantly increase your employability. Class 1 meets February 25-26, 2012 and Class 2 meets March 10-11, from 9:00-4:00 in San Jose, CA.
These workshops are geared toward beginners and we recommend that you participate in both to fully learn the competencies covered.  At the workshops, you will learn how to:
Conduct patient intakes
Give treatment instructions
Role-play typical scenarios
Ask questions specific to your circumstances
Use present, past, future and command forms of verbs
Certificates of Participation will be issued. Contact us for more information or to sign up.