Do you need to find out where is hurts? Want to discuss medication or direct therapeutic treatment? Our services fill in the gap when interpreters are not available. Learn to use the tools specially designed by Habla Language Services to begin communicating with Spanish-speakers immediately.
By participating in this workshop,  you instantly increase your employability. This workshop is geared toward beginners.   At the workshops, you will learn how to:
Conduct patient intakes

Give treatment instructions

Role-play typical scenarios

Ask questions specific to your circumstances

Use present, future and command forms of verbs
Upcoming Class, Summer 2018:
Fridays in July, 9 a.m. - 4 p.m. 
Contact us for more info or to inquire about Levels 2, 3, 4 and Advanced (Interpreter Training).
Habla Language Services is now a Continuing Education Provider approved by the California Board of Registered Nursing, Provider Number 16040. When you participate in all four classes and read the prerequisite Chapter 15 of The Complete Medical Spanish required textbook, you will receive 25 Contact Hours. These are often known as Nursing Continuing Education Units. Certificates of Participation will be issued. Contact us for more information or to sign up.
We use the McGraw-Hill's Complete Medical Spanish book. Prior to class, you need to read Chapter 15. Please contact us after registering to receive the book or pdf of the Chapter.

A few nurses have found this spiral-bound book helpful to have in the clinic:

We also have 3-hour workshops specifically for Chiropractors, Dental Hygienists and Physical Therapists. We need a minimum number of people to run a class. Contact us for more information.
Spanish Laminated Posters: Habla Language Services is proud to offer Spanish posters to help make your office more comfortable for the Spanish-speaking patient. Charts are available for purchase at workshops. Or, you can order online and have charts shipped directly to your office.
In addition to the two posters listed here, other Spanish Medical Charts are available upon request such as skeletal, muscular, explanation of illness, dental, and various parts of the body. Email us if you would like more information or would like to receive one of these laminated posters. Please include your zip code so we can calculate shipping.
Vertebrae Chart
Sports Injury Chart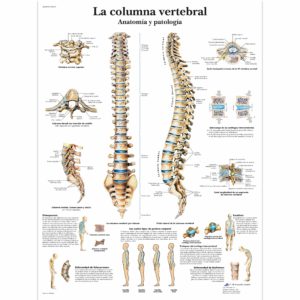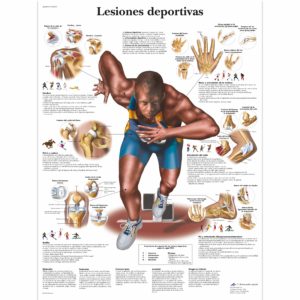 Charts are thickly laminated and printed on premium glossy (200 g) UV resistant paper with metal eyelets to make the chart easy to display. It comes in a convenient poster size 20"x26'' and can be written on and wiped off with non-permanent markers. The 125 micron lamination ensures the chart does not curl up at the edges and lasts over time. Cost for each poster is $29.95 + shipping.