In this three-hour workshop you will receive the tools you need to communicate the following competencies:
Parts of the body
Discuss therapy options
Discuss therapy exercises
Contact us if you would like this workshop to come to your office. You can purchase a Spanish laminated chart of Sports Injuries on our Medical Professionals page.
Spanish Laminated Posters: Habla Language Services is proud to offer Spanish posters to help make your office more comfortable for the Spanish-speaking patient. Charts are available for purchase at workshops. Or, you can email us and have charts shipped directly to your office.
Sports Injury Chart $29.95 + shipping.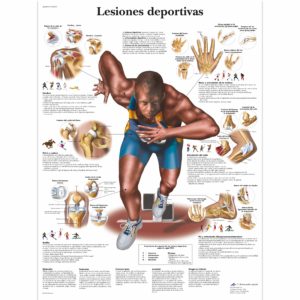 Charts are thickly laminated and printed on premium glossy (200 g) UV resistant paper with metal eyelets to make the chart easy to display. It comes in a convenient poster size 20"x26'' and can be written on and wiped off with non-permanent markers. The 125 micron lamination ensures the chart does not curl up at the edges and lasts over time.