Go into a taquería with confidence! After the workshop, you will have actual practice ordering customized Mexican food. Dinner and music is included. We can add salsa, merengue or tango dance lessons upon request. Excellent package for planning a Mexican bon voyage, Cinco de Mayo, or customer appreciation parties.
We offer a one-hour workshop which covers how to order a burrito just they way you like. We go over drink and side options and questions the server may ask you.
If you'd like your own burrito, taco, and quesadilla bar at your party, contact us.  We've partnered with local Mexican caterers and dance studios. We can put together a party you and your friends will always remember!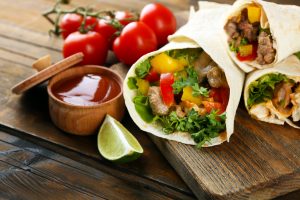 I had a great time at the Mexican Fiesta workshop. The food was excellent and it was fun to order in Spanish only. The layout of food items was perfect: different meats, beans, rice, sour cream, and all the fixings, and all were practiced in Spanish before we ordered. Now I try to order in Spanish at my favorite taquería. –Justin F.
Mexican Fiesta: Order Your Own Burrito Recorded Workshop 
This recorded presentation brings the workshop to you. It is just over 8 minutes and goes over the pronunciation and shows you how to complete a dialogue for ordering. You will also receive a full-color picture worksheet for practicing the key vocabulary words or to test yourself. ADDED BONUS: Tips for Mexican Fiesta. Entertainment tips for food, music and favors.