Thanks to the NASE Business Development Grant that was awarded to Habla Language Services in July of 2008, we are proud to announce the launching of our new website.
Any of you who own small businesses probably understand the feat that goes into developing a website. Finding the right person who shares your vision is a challenge. After some trials, we finally found an enthusiastic developer who works with websites in Word Press. He got us set up with 25 webpages and all the dynamics we needed. We are now set up to blog and you can count on seeing a fresh update on our website weekly.
Our first blog entry is our proud announcement of the NASE grant that made this happen. Click here for a link to the Press Release.
We also want to show off the congratulatory letter that Dianne Feinstein wrote: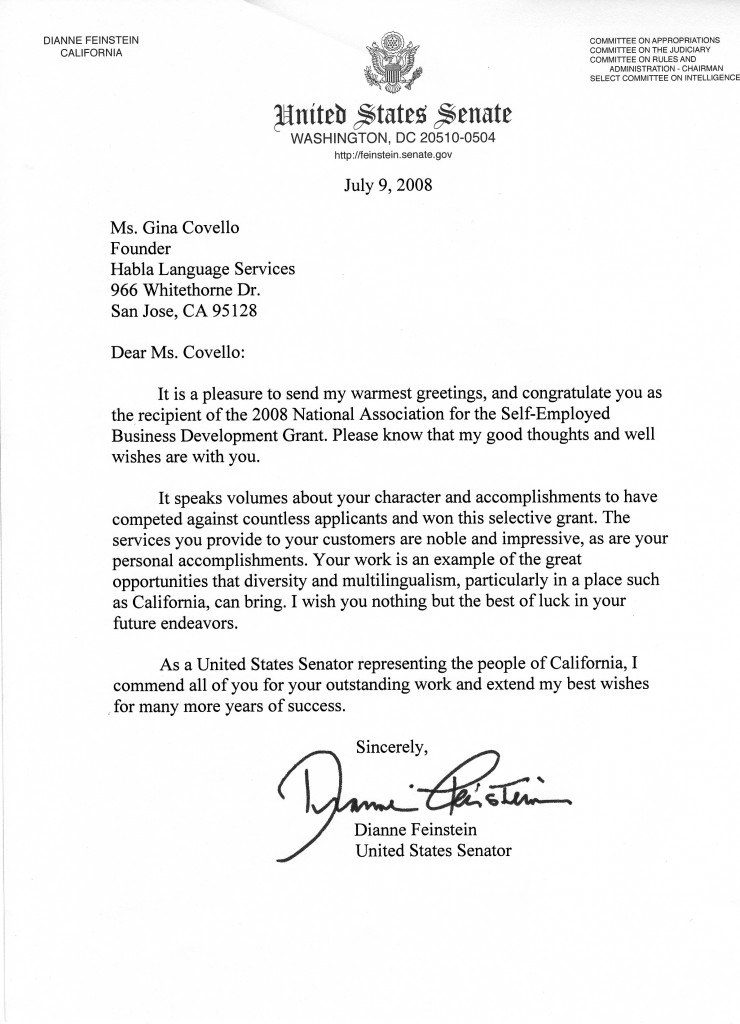 For those of you who are unfamiliar with Habla Language Services, take a look around our website. We offer onsite Spanish instruction in San Jose, CA and the SF Bay Area. We will also travel within a 2-hour radius. Additional locations are available for an additional fee.
We offer specialized Spanish and ESL instruction for individuals, small businesses and corporations. Learn all the Spanish you need in 3-8 hours! Current streamlined workshops include:
Spanish for Chiropractors
Spanish for Bankers and Financial Experts
Spanish for Construction
Spanish for Missionaries (at home and abroad)
Spanish for Homeowners
We also offer conversational Spanish classes, How to Order a Burrito Workshop, and Mexican Fiestas. This summer we are offering a Spanish immersion program in Costa Rica! Email us for more information.
Thank you for visiting our website. We will be posting fresh blogs weekly on effective language learning and reaching the Hispanic market. Please subscribe to our blog and invite your friends to as well.
Que Dios le bendiga,
Gina Covello, MA