When you are working with the Hispanic market, in California, it is important to understand the Mexican culture. Understanding Mexican names and nicknames is a big part of what makes up Mexican culture. I'll never forget the time I took a test in my Spanish class for native-speakers. We were suppossed to read a book and the quiz was on the characters in the book. Well, nobody had read the book, but all the Mexicans knew the nicknames associated with each name. It was the 1st time I ever experienced what it was like to take a culturally-biased test. If I had had this list or something similiar, I would have been able to pass the quiz!
Now, I'm passing on the info to you. You may not be taking a quiz in español para hispanohablantes, but if you are dealing with Eduardo and everybody is calling him Lalo, now you'll know why. nombres-mexicanos

I always stress to my students that communication is key and perfection is not. How many times have you listened to immigrants speaking English? Do you listen for their mistakes and analyze them? Or do you listen for their message and engage in communication? Keep this in mind when learning Spanish or any other languge and try to follow these tips.
Click here for About.com's article on tips for learning Spanish.
Don't forget to sign up for Habla Language Service's conversational series if you are in the South Bay Area.

Have you ever had difficulty communicating with an employee or co-worker because of language differences? Even when English is a common language, sometimes communication challenges arise. So much more are the challenges when an employee has not yet mastered English. While it may be to the immigrant's advantage to learn English, it may also be to the employer's advantage to learn Spanish! When we stop to consider that many immigrants may not have a high school education, they work long hours, and are adjusting to a new culture; it may actually be easier and more efficient for college-educated Americans to learn the industry-specific Spanish they need to communicate with the Spanish-speaking market or workplace. 
Many of you reading this article probably have at least a college education. Have you ever tried to learn a second language? Imagine the challenges immigrants face as they try to adjust to a new country, work many hours, and then go to English as a Second Language school, wondering what a noun and a verb is.
Because Hispanics now represent 12 million people in California, it may be to your benefit to learn Spanish. Depending on your profession, you may be missing out on close to 50% of the market share by not knowing Spanish. If you are not able to communicate with this population, you may be missing out on huge profits. It would be faster and easier for you to learn what you need to know to communicate with the Hispanic market in your industry rather than to expect an immigrant from a Spanish-speaking country to be able to communicate his or her needs in every industry with which they interface.
So how can you begin to learn to communicate in Spanish, or any other language for that matter? Enroll in a program designed to teach you what you need to know to conduct business in your industry. Learn the fundamentals; don't get bogged down with grammatical rules.
Many professional Americans are held back from speaking a language other than English because they are consumed with using perfectly correct grammar at the expense of actually communicating their message. Well, there is another way to approach this. Have you ever listened to somebody speak English who speaks it as a second or third language? Do you home in on all the grammatical errors they make when speaking, or do you try to understand what they are saying?
Break free from what your high school or college professors told you. The sky will not fall if you make a masculine word feminine or if you conjugate a verb incorrectly. Learn key phrases in your target language like, "Slower please; I'm still learning." Listen for key words and then form your questions around what you did understand. Such as, "What did you say about x?" "We should ship the product when?" "And then do what?" This shows the speaker that you are getting part of the message and he or she can just repeat clearly the parts you didn't understand.
If you need to brush up on your language skills or you need to start from the beginning, find a language school that caters to the professional. You do not want to sit in a class conjugating verbs for hours. After all, you are not getting graded at the end – but you do need to communicate with your target market. Find a school that teaches the specifics you need in your industry. Some software programs start at the beginning. They may teach, "The ball is bouncing." "This is a boy." How many hours do you need to sift through to be able to say, "Bring me the ¾" nails." Or, "tell me where it hurts and when it is the worst." If you find a school that focuses on teaching you exactly what you need to know for your market, you can be speaking with Hispanics (or other population groups) in minimal time and can focus on increasing your bottom line because you have now opened yourself up to 12 million more people in the market!
Habla Language Services provides Spanish classes and industry-specific workshops in San Jose, CA and the SF Bay Area. Additional areas are available for travel fees. We offer onsite Spanish. Learn Spanish now!

Thanks to the NASE Business Development Grant that was awarded to Habla Language Services in July of 2008, we are proud to announce the launching of our new website.
Any of you who own small businesses probably understand the feat that goes into developing a website. Finding the right person who shares your vision is a challenge. After some trials, we finally found an enthusiastic developer who works with websites in Word Press. He got us set up with 25 webpages and all the dynamics we needed. We are now set up to blog and you can count on seeing a fresh update on our website weekly.
Our first blog entry is our proud announcement of the NASE grant that made this happen. Click here for a link to the Press Release.
We also want to show off the congratulatory letter that Dianne Feinstein wrote: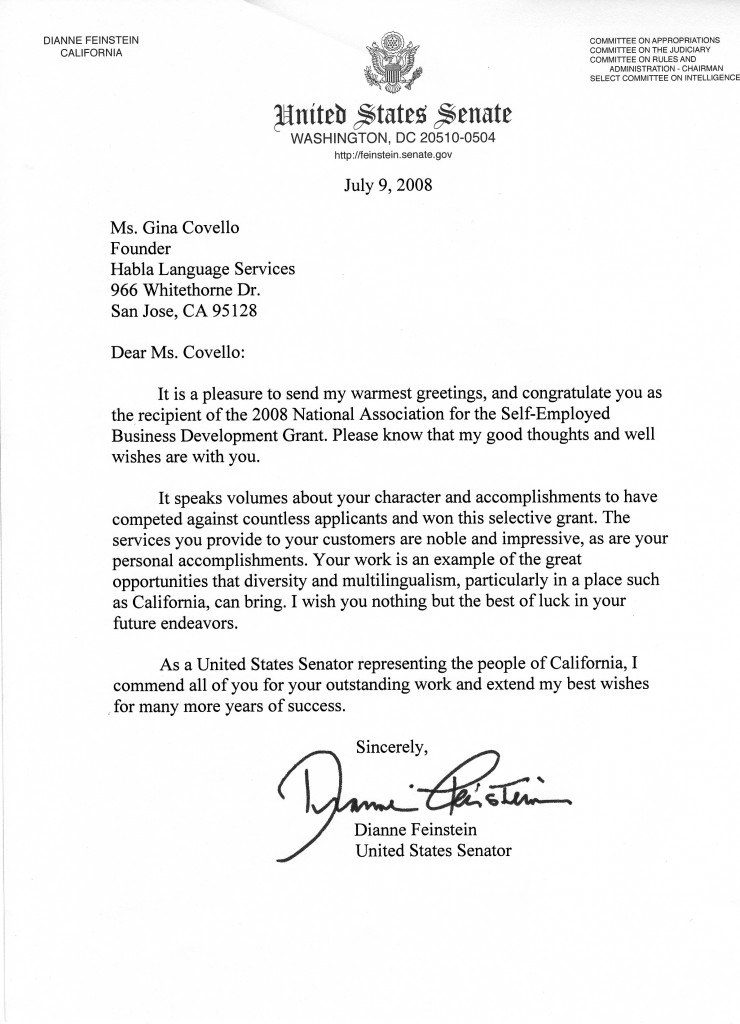 For those of you who are unfamiliar with Habla Language Services, take a look around our website. We offer onsite Spanish instruction in San Jose, CA and the SF Bay Area. We will also travel within a 2-hour radius. Additional locations are available for an additional fee.
We offer specialized Spanish and ESL instruction for individuals, small businesses and corporations. Learn all the Spanish you need in 3-8 hours! Current streamlined workshops include:
Spanish for Chiropractors
Spanish for Bankers and Financial Experts
Spanish for Construction
Spanish for Missionaries (at home and abroad)
Spanish for Homeowners
We also offer conversational Spanish classes, How to Order a Burrito Workshop, and Mexican Fiestas. This summer we are offering a Spanish immersion program in Costa Rica! Email us for more information.
Thank you for visiting our website. We will be posting fresh blogs weekly on effective language learning and reaching the Hispanic market. Please subscribe to our blog and invite your friends to as well.
Que Dios le bendiga,
Gina Covello, MA