Gina Covello
Ms. Covello has a Master's degree in International Policy and Hispanic Studies with an emphasis on translation and interpretation from the Monterey Institute of International

Studies.
Her undergraduate degree includes English Literature with a double major in Language and Cultural Studies from the University of California.

Her studies included a semester at the Escuela Americana de Traducción e Interpretación in Santiago, Chile and a quarter at the UNAM in Mexico City. She is also an alumna of the United States Peace Corps, Costa Rica.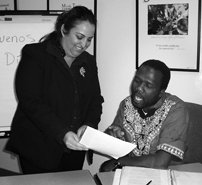 Ms. Covello has an Adult Education California Teaching Credential and over twenty years' experience teaching English, Spanish, and Business Communication. She is also a member of the American Council on the Teaching of Foreign Languages.