August 2019 – Join Us!!
These trips have been carefully planned and thought out. They are not just run-of-the-mill tourist attractions. Habla Language Services Founder, Gina Covello, has used her local contacts met during her Peace Corps Service to plan trips and activities that boost the local economy and support sustainable tourism all while helping you learn Spanish!!
While we are on these trips, away from our homestay – the only meal included is breakfast, unless otherwise noted on the Day-to-Day Itinerary.
Beach Trip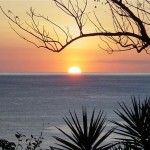 Fly into LIR on Friday night (August 2, 2019) and get your free shuttle to the Hilton Garden Inn. We will have a morning orientation over breakfast and then depart at 9:30 a.m. on Saturday, August 3, for Hermosa Beach, Guanacaste.
We will drop our things off at the Mangroove Boutique Hotel and then head to Hermosa Beach for a full day of fun in the sun. You will have your choice to snorkel, relax in the calm waves, or enjoy the warm sand in the shade of a tree. We plan to to enjoy a fresh seafood lunch at La Casita del Marisco.  For those who want to stay at Mangroove, kayaking and bicycles are included.
We will leave the beach in time to return to the Mangroove for cocktails, dinner and sunset over the breathtaking Papagayo Bay.
In the morning, there will be time for breakfast, spa (additional), gym, kayaking or bikes or more beach time. Then we'll head to Llano de Cortes Waterfall for some bathing there. We'll pick up Subway on the way to have a picnic lunch at the falls.
After we dry off, we'll head to the Centro de Rescate near Cañas to learn about the cats and other wildlife they are rehabilitating.
From the Centro, we'll head up to Tilarán, making a couple stops to capture the sunset! We'll have a brief orientation to the Spanish Immersion Program and get you settled in with your host families or hotel accommodations – ready to start the #SpanishCostaRica program in the morning!
Rain Forest/Volcano/Cloud Forest
After 4 days of the Spanish Immersion Program, we have put together a fabulous trip of a lifetime – not to be missed!!
Friday afternoon after our final project, we will leave Tilarán and head around Arenal Lake to the Rain Forest Suspension Bridges of Místico. Here we will enjoy a 2½ hour guided walk.
We will check-in to our hotel at Volcano Lodge & Springs. You can chill out at the hot springs or get a spa treatment or both!

Saturday we will have an early breakfast at the hotel and head to a sloth tour. We will then grab a quick lunch in La Fortuna and head to Project Asis. Here we will spend half a day learning and seeing Costa Rican wildlife up close and will even have the chance to FEED THEM! We will then return to Volcano Lodge for more relaxation.
We will have another early breakfast and the hotel and then head to Rio Celeste. This sky blue waterfall is an amazing site! After a few hours of hiking, we'll have a típico lunch.
Following lunch, we will head to Monteverde Cloud Forest. Once we check into our hotel, you will have the option to do a night hike ($30), or enjoy the beautiful grounds of your hotel. We will dine at the exquisite farm-to-table Belmar. Breakfast the next morning is also included.

For our adventures in the cloud forest, we have the following options:

Bird Watching ($75) 6:30 a.m – 10:30 a.m. (Includes breakfast at Stella's.)
Ziplining ($45)
Hiking at Curi-Cancha Reserve ($35)

After our adventures, we will go to the Belmar for lunch, followed by the best ice cream ever at the Monteverde Cheese Factory. Next, we will head to Monteverde Reserve to see the hummingbirds and check out the gift shop.
We have one more stop before leaving Monteverde. You will have a chance to souvenir shop at Rosewood Souvenirs. If we get lucky, the owner might even take us on a tour of his gardens and show us how he does woodworking.
We will then head back to the Hilton Garden Inn at LIR. You will be taking a shuttle back to the airport or you can choose to extend a few days at Analive's farm or tour more of Costa Rica. Let us know what you'd like to do for a quote.
Click here for Day-to-Day Itinerary and Payment Information.