August 2018 – Join Us!!
These trips have been carefully planned and thought out. They are not just run-of-the-mill tourist attractions. Habla Language Services Founder, Gina Covello, has used her local contacts met during her Peace Corps Service to plan trips and activities that boost the local economy and support sustainable tourism all while helping you learn Spanish!!
Beach Trip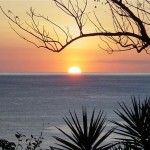 Fly into LIR on Friday night and be ready to depart at 9 a.m. on Saturday, August 5, for Hermosa Beach, Guanacaste.
We will arrive at Hermosa Beach in time to enjoy a fresh seafood lunch at La Casita del Marisco.  Then there will be plenty of time for snorkeling, relaxing in the calm waves, or enjoying the warm sand in the shade of a tree. (Lunch not included.)
We will leave the beach in time to arrive at the Mangroove Boutique Hotel for cocktails and sunset over the breathtaking Papagayo Bay. Dinner and cocktails are included.
In the morning, there will be time for breakfast, spa (additional), gym or more beach time. We will check out at lunch time and head back to Hermosa Beach for a different lunch spot. (Lunch not included.)
As we head to Tilarán, we will stop at the Llano de Cortes Waterfall for some bathing there.
After we dry off, we'll head to the Centro de Rescate near Cañas to learn about the cats and other wildlife they are rehabilitating.
From the Centro, we will head up to Tilarán for orientation to the Spanish Immersion Program and get you settled in with your host families or hotel accommodations – ready to start the #SpanishCostaRica program in the morning!
Rain Forest/Volcano/Cloud Forest
After 5 days of the Spanish Immersion Program, we have put together a fabulous trip of a lifetime – not to be missed!!
Saturday morning, August 11, we will leave Tilarán and head around Arenal Lake to the Rain Forest Suspension Bridges of Místico.

Our next adventure takes us to the hot springs of Volcano Arenal. There will be time for lunch and hot soaks and cool plunges while surrounded by lush gardens.
We will then cross Arenal Lake to Rio Chiquito with Monteverde Cloud Forest as our final destination for the day.
Once we check into our hotel, you will have the option to do a night hike, walk the gardens at the Monteverde Lodge & Gardens, check out the Butterfly and/or Hummingbird Gardens, or get a Spa treatment. We recommend dinner at the Lodge.


The gardens have some truly special plants such as Tree Ferns, Imperial Bromeliads and Anthuriums. There are also many species of orchids, white and purple Agapanthus, Hydrangeas and much more.

In the beginning we rarely saw mammals on the grounds, but today it's common to see White-nose Coatis, Agoutis, and White- faced Capuchin monkeys. About once a year the White-faced Monkeys even manage to visit El Jardin restaurant. But you have a much better chance to see them in the garden. 

Birds love the grounds surrounding Monteverde Lodge. We often see the Three-Wattled Bellbird, the Masked Tityra and the Emerald Toucanet, among others. The songs of the Rufous-and-White Wren usually accompanies your time in the gardens.

The next morning, is for optional activities. Options include:

Bird Watching at Curicancha Reserve ($75) 6 a.m – 11 a.m.
Ziplining ($45)
Hiking at Reserve ($15)

Following our check-out, we will take you to the CASEM Coop for shopping and lunch, followed by the best ice cream ever at the Monteverde Cheese Factory.
We have one more stop before leaving Monteverde. You will have a chance to souvenir shop at Rosewood Souvenirs. If we get lucky, the owner might even take us on a tour of his gardens and show us how he does woodworking.
Our route to Tilarán will lead us right by the Viento Fresco Waterfalls. We will stop here to walk to the falls and enjoy a quick dip before concluding our trip in Tilarán.
Reserving and Payment Information:
Cancellation policy: