Optional Weekend Trips in Costa Rica
This information will be updated soon for the July 2013 trip. Prices and dates will change. The Beach Trip location will also most likely change and we will add photos and videos so you can see first-hand what kind of experience to expect.
Beach Trip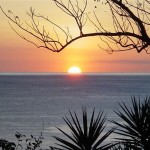 If you arrive on Thursday night, here are a couple of options of where you can stay that are 15 minutes from the airport:
Hotel El Punto  $50/night
Hostel  $11/night
If you are not joining us on the beach trip, but want pick up from Liberia to Tilarán, we can pick you up from your hotel, or a main part of town for $50.
Friday, we will pick you up from Liberia and take you to the beautiful Lagarta Lodge.
Lagarta Lodge is set on a hill about 40 m above sea level and offers a wonderful view of the coastline of Ostional, the mountains, the river mouth from Rio Nosara and also over the forest, which belongs to the Reserva Biológica Nosara. The beautiful beach is only a 10 minute walk away.
The price of the trip includes transport to the Lodge from Liberia Airport or Liberia downtown and 2 nights stay at the Lagarta Lodge. It also includes a welcome drink, 2 breakfast buffets, and admission to the private Nosara Biological Reserve both days:
In the 90 acre nature reserve (Reserva Biológica) you can find well indicated hiking paths. From there you can observe the fauna, especially in the early morning. In this nature reserve you can admire: racoons, monkeys, armadillos and coatis, amphibious animals, reptiles and of course a rich and varied bird life (more than 270 species).
We will also include a trip to turtle watching in Ostional if nature cooperates with us.
You can choose your level of luxury for the 3 day/2 night trip:
Standard Room with fan $230
Superior Room with fan $250
Superior Room with air conditioning. $300
Click on link here to see the photos of the Standard and Superior rooms when making your choice. If you are interested in this trip, please let us know as soon as possible which room you prefer so we can reserve it. December is high season and rooms are going quickly.
The following add-on tours are available. Prices are approximations for your budgeting purposes and may be subject to change.
Guided boat trips (Have not gotten back to me on price of this yet.)
Horseback riding $80 (2.5 hours on the beach)
Or, if you prefer, you can simply enjoy the beach PRICELESS.
The price of the trip does NOT include lunch or dinner. You can choose from the delicious Lagarta menu. It looks like those dinners are about $14-15 for an entrée (with tax and tip included).
On the afternoon of 18th, we will drive up to Tilarán and get you settled in with your host family.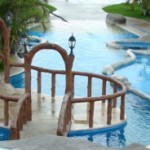 Volcano Trip
If you are staying for two sessions, you can participate on this trip as an inter-session trip. Or if you are participating in Session 1 and then flying home, we can arrange to drop you off in Liberia on the 25th after this trip on our way back to Tilarán. Let us know your flight information so we can coordinate.
You will enjoy 4 thermal pools at different temperatures, a huge slide, and a wet bar. One of the pools has jet massages and there is also a sauna. This cost for this trip is $300 per person and includes transportation from Tilarán and return to Tilarán or Liberia; admission to pools; lodging for 2 nights in comfortable rooms surrounded by Costa Rican forest; breakfast and dinner are also included. We will also be including a zip line tour on Saturday and a day trip to the volcano with horseback riding (and lunch) on Sunday.
Volcano Miravalles is located in Guanacaste, Costa Rica. With Las Hornillas, you can take a tour inside Costa Rica's live walkable volcanic crater. In no other place can you view the geological marvels of bubbling mud pots, bubbling water pools, fumaroles, and crystallized sulfur so close. Bathe in the therapeutic volcanic mud, before riding a horse to the beautiful waterfalls located in a private nature reserve.
MonteVerde Cloud Forest
Spend New Years in the Costa Rican Cloud Forest listening to the sound of howler monkeys. We can hike to the San Luis Waterfall or take in the Frog Pond and Butterfly Garden. Price of this trip is $300 per person and includes transportation to and from Tilarán, lodging, entrance to any of the gardens we want to see and food to prepare our own meals in the family style cabin.
Add-on tours available are: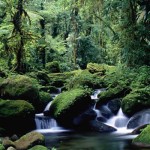 Sky tram and zip line tour $83
Horseback Riding 2 hours for $30
Reserving and Payment Information:
If you are interested in any of these trips, payment would be appreciated as soon as possible so we can reserve the rooms and guarantee your space. We have worked hard to be able to offer you very affordable rates and are proud to say that we will be using a diesel vehicle which is more efficient than gas and is 100% locally owned and operated. Please pay with check when possible as we lose money on credit card transactions.
Cancellation policy:
-if you cancel your reservation within 21 to 15 days of arrival date, we will charge 50% of the total amount.
-if you cancel your reservation 14 days or less prior to the expected date of arrival, costs will not be reimbursed.