I am available to tutor you or your child for Spanish finals. I have the grammar background and experience to help with high school through college level. I taught high school Spanish for Heritage Speakers as well as Level 3. I have also tutored many Spanish 2 students and have worked with children including preschool age.
I majored in Language & Culture Studies at the University of California, Santa Cruz and received honors. I took many Spanish courses including the path for native speakers. However, I learned Spanish as a 2nd language, so I know what questions and doubts you may face when trying to make sense of all the grammar. I can help with communication as well. Contact me. I have a reduced rate if you come to the Habla Language Services classroom. Or, May 6-24, I can come to your home or study area.
I also have a Master's Degree from the Monterey Institute of International Studies in Hispanic Studies and worked as an interpreter for the U.S. Department of Justice.
I served in the U.S. Peace Corps in Costa Rica for 2.5 years and also studied in Mexico and Chile. When you hire me as a tutor, you are getting an expert in language and culture.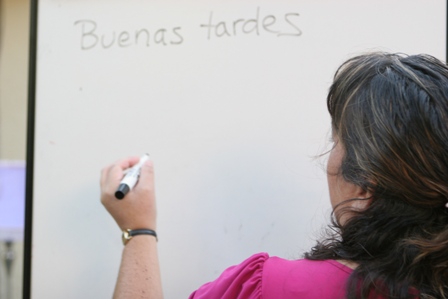 Short-term contract opportunity for Spanish teacher in NYC, Atlanta, Houston and Jacksonville. Must live there or be within commuting distance. Contact Angela directly. This is for teaching adult professionals.
Here's what's going on at Habla:
Beginning Spanish Class tentatively planned for Mondays between 10 a.m. and 2:00 p.m.
Intermediate Spanish Class: Tuesdays at 2:30, but somewhat flexible.
Advanced Spanish Class: Mondays 2-3 p.m.
ESL Adv. Beg: Mondays 6:30-7:30 p.m. (may add or switch this)
Medical Spanish Workshops: Feb. 25-26 and March 10-11; 9 a.m. – 4 p.m.
I have kept my Thursdays free so that I can go out and meet with various business contacts to discuss teaching either English or Spanish. I work with your schedule and venue. If you'd like me to come to your place of work to teach either English or Spanish let me know. I have experience teaching English to restaurant servers and will be working on getting certified for CE units for Spanish for Chiropractors and Medical Spanish workshops. I also have experience in many more areas, so contact me and let's see how I can meet your English or Spanish needs.  I continue to work at bridging the language gap between English and Spanish speakers.
We are looking at doing Costa Rica July or August 2013 and will be updating the website soon.
Due to popular demand, here is the document you have requested for the Latin American Film Festival.  I just ask that if you access the Latin American Film Festival document, you write a quick comment here on my blog and please become a fan of my Facebook Page.
Also, I am giving it to you in MS Word form so you can edit it according to your needs. Please remember to give me credit (I inserted my name in the footer). Have a fantastic Spanish Heritage Month!!
Please note that prior to the film festival, I sent home permission slips to their parents. For those that did not want them to see certain movies, I gave them alternative research assignments. They went to the library while I was showing the movie and researched a related topic.
Also, I first had them work in groups doing oral presentations on Latin American countries. Then they got to learn more by seeing the movies. They had to turn in a written journal on each of the movies. If it was a short YouTube video, one or two sentences were o.k. If it was a long movie, I required at least a page. I had them type it, so I could read them more quickly and effectively. I showed a total of 20 movies and each one was worth 10 points, so it made grading easiest to give due weight to this project compared to the oral reports and a few other things we did 2nd semester.
Remember, these are native speakers that needed work with amplifying vocabulary and improving their written skills. We spent the 1st semester in the text book studying vocabulary, reading comprehension, and grammar. All they wanted to do was watch movies. So I let them watch movies until they were SICK of them. They had to pay attention and write their thoughts on each one. For the full-length movies, I gave them a lesson on how to write a movie summary and review. If they were absent during a short movie, they had to make it up. If they were absent during a long movie, I gave them an average score for that particular movie (or you can do whatever works for you to make grading easy and fair.) When a movie allowed for Spanish selection, we watched it in Spanish, or with Spanish subtitles. Many of my students were actually stronger in Spanish than English anyway.
Venezuela: YouTube: Venezuela, Angel Falls, Delta Canaima, www.witaga.com
La República Dominicana: You Tube: Republica Dominicana un país inagotable
Costa Rica: YouTube: Costa Rica [campaña oficial ICT]
Costa Rica: www.olivafilms.com Choose the versión español
Cuba: YouTube: Cuba Travel Doc – Part 01 AND Cuba Travel Doc Part 02
Puerto Rico: YouTube: Puerto Rico: The 51st State?
Peru: YouTube: Macchu Pichu from user: denniscallan
Panama: Panama Deception, Netflix
Argentina: Evita (PG)
Cuba: For Love or Country, Netflix (PG-13)
El Salvador: Salvador, Netflix (R)
Nicaragua: Under Fire (R) Netflix Instant Play
Guatemala: When the Mountains Tremble (Netflix Instant Play)
Ecuador: Globe Trekker: Ecuador and the Galapagos Islands, Netflix
South America: Motorcycle Diaries (R), Netflix Instant Play
Uruguay: YouTube: Documental español sobre Uruguay user: zeva2002
Honduras: YouTube: Hoduras Querida, user: puntarock1
Bolivia: YouTube: Bolivia Pueblos Indigenas, user: roncon
Paraguay: 11 minute documentary from Frontline: http://www.pbs.org/frontlineworld/stories/paraguay604/video_index.html.
Colombia: Plan Columbia, Netflix Instant Play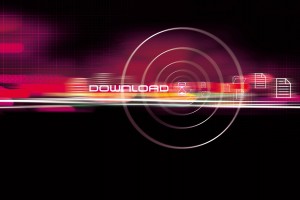 Due to demand to have Habla Language Services Workshops available virtually, Gina Covello has recorded her workshops and they are now available through automated download.
You can also choose physical upgrades to receive the booklets or flashcards that go with the workshop. Some documents are free and the workshops vary in price from $4.95 to $69.95. You can use Paypal or Google Checkout to pay for the products you wish to purchase. See Habla Language Services Digital Training Page for more information on the products for sale which include:
Basic Spanish
Spanish for Chiropractors
Spanish for Homeowners
Spanish for Bankers and other Financial Experts
Spanish for Construction
Spanish for Missionaries (including purchasing a translation of your testimony)
Mexican Fiesta Workshop and Package
Résumé Writing Tips (Free)
A note about Gina Covello, the founder of Habla Language Services. Ms. Covello has a Master's degree in International Policy and Hispanic Studies with an emphasis on translation and interpretation from the Monterey Institute of International Studies. Her undergraduate degree from the University of California includes English Literature with a double major in Language and Cultural Studies (honors). Her studies have included a semester at the Escuela Americana de Traducción e Interpretación in Santiago, Chile and a quarter at the UNAM in Mexico City. She is also an alumna of the United States Peace Corps, Costa Rica. Ms. Covello has an Adult Education California Teaching Credential and over fifteen years' experience teaching English, Spanish, and Business Communication. She is also a member of the American Council on the Teaching of Foreign Languages.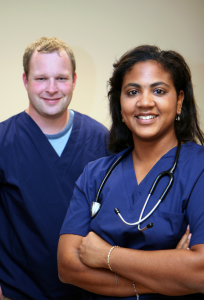 "I'm a nurse, why do I need to know Spanish?" When you know Spanish, you increase your marketability if you are looking for work and your job security if you already have a job. Typically, you do not have be completely fluent in Spanish; you just have to be communicative.
We are offering a series of two 2-day workshops. By participating in these workshops,  you instantly increase your employability. Class 1 meets February 25-26, 2012 and Class 2 meets March 10-11, from 9:00-4:00 in San Jose, CA. The fee for each weekend is $225, which covers lunch for both days, a book, and all other materials.
These workshops are geared toward beginners and we recommend that you participate in both to fully learn the competencies covered.  At the workshops, you will learn how to:
Conduct patient intakes
Give treatment instructions
Role-play typical scenarios
Ask questions specific to your circumstances
Use present, past, future and command forms of verbs
Certificates of Participation will be issued. Contact us for more information or to sign up.
O.k. I don't LOVE this, but it is kind of cool to be able to click on the words all in one place to hear the pronunciation. It is a little strange using children's voices. And we do not use ordinal numbers for the dates of the month in Spanish – maybe in Spain they do. But it is good practice for the ordinal numbers nonetheless.  I think this is definitely from Spain, but you can still use it to practice some of the basics. For a really intensive, interactive workshop, contact us; we go over this content and more!
"Speaking in Tongues" is an award-winning documentary that documents the journey of four children on their quest to become bilingual. Jason is a first-generation Mexican American whose family embraces bilingualism as the key to full participation in the land of opportunity. Durrell is an African American kindergartner whose mother hopes that learning Mandarin will be a way out of economic uncertainty and into possibility. Kelly is a Chinese-American recapturing the Cantonese her parents sacrificed to become American. And Julian is a Caucasian eighth grader eager to expand his horizons and become a good world citizen.
The film begins with an ordinary first day of public school kindergarten– except that the teacher speaks only Chinese. Most of her primarily White and Asian American students look confused but curious; a few nod accordingly. They are all in a language immersion class, where, from day one, they will receive 90% of their instruction in Cantonese. Remarkably, their school will test first in English and math among their district's 76 elementary schools.
While the kids grow in ease and skill with their second tnogue, the grownups argue about the issues surrounding bilingual language education, citing tax burdens, but Durrell's uncle praises bilingualism, citing the needs of the global economy. Jason becomes the first in his family to read, write, and graduate elementary school; however, at a school enrollment fair, a Latino father asks where his daughter can learn more English. At another school meeting, an angry Chinese dad says, "We are in America! We need English!"
—Ilya Tovbis
San Francisco International Film Festival
LEARN ABOUT SUSTAINABLE TRAVEL BEFORE YOU GO
Sustainable travel means acting as a conscientious tourist, careful with the environments you explore and respecting the communities you visit. Two overlapping components of sustainable travel are ecotourism and ethical tourism. The International Ecotourism Society (TIES)(www.ecotourism.org) defines ecotourism as respon­sible travel to natural areas that conserves the environment and improves the well-being of local people. TIES suggests that ecotourists follow these principles: 
Minimize environmental impact
Build environmental and cultural awareness and respect
Provide positive experiences for both visitors and hosts
Provide direct financial benefits for conservation and for local people
Raise sensitivity to host countries' political, environmental, and social climates
Support international human rights and labor agreements
While much of the focus of ecotourism is about reducing im­pacts on the natural environment, ethical tourism concentrates on ways to preserve and enhance local economies and communities, re­gardless of location. You can embrace ethical tourism by staying at a locally owned hotel, shopping at a store that employs local workers and sells locally produced goods, and hiring a local guide whenever possible. Some other things to take into account are dress (in many countries, modest dress is important), behavior (asking permission before entering sacred places, for example), taking photos or video (always be sensitive and ask first), paying a fair price (not engaging in overly aggressive bargaining for souvenirs or short-changing on tips), and being careful about what you purchase (never buy crafts that may have been made from protected or endangered animals).
Responsible Travel (www.responsibletravel.com) is another good source of sustainable travel ideas. They even feature a carbon calculator on the site where travelers can calculate the carbon emissions from their flights and consider offsetting them by investing in carbon-reducing initiatives around the world.
–Taken from The Language Educator, October 2009, pages 16-17.
Habla Language Services' Spanish immersion program to Costa Rica is ecofriendly. We really on locals for housing, cultural trips, and wherever else possible. Check out our page to find out more about learning Spanish in Costa Rica this summer!
This article was featured in the October 2009 edition of the Language Educator. It is by Janine Erickson, the President of the American Council on the Teaching of Foreign Languages. She advocates for travel to a country where the target language is spoken to really live and learn it. Keep this in mind when considering our trip to Costa Rica in August 2010. Come join in the language and cultural learning experience!
"Learning a foreign language is by far the most culturally enriching prospect available in our education system. Traveling to a country that speaks that particular language opens our eyes to the world. Using the language in the country where it is spoken, being understood, and blending in with the people and culture of that country are all experiences that are truly priceless!
Few experiences in life rival the academic, career, intercultural, personal, and social benefits of studying abroad. Struc­tured foreign travel and study in another country can provide many extraordinary opportunities and prepare us for the demands of the 21st century in our increasingly multicultural world. The chance to fine tune indispensable skills through language immersion; to experience a country's vibrant history, art, and culture; and to develop a fresh perspective of the modern world are some of the greatest benefits of a travel/study abroad experience.
In today's competitive job market, foreign travel experience on a resume can speak volumes. Both outside and within the education field, employers value qualities such as willingness and readiness to adapt to new environments, an ability to look at a project or situation from different perspectives, an understanding of diverse cultures, and an ability to take risks. Distinctive personal characteristics such as independence, flexibility, and adaptability are developed and expanded through study abroad experiences.
Foreign travel experiences also have a positive impact on globalizing the teaching of world languages. To enhance the delivery of a complete world language study program, language teachers at all levels must have strong proficiency in the language and knowledge of the culture in addition to professional teaching skills. Given the importance in today's standards-based curricula, brief foreign visits are a practical answer to the higher proficiency expectations placed on world language teachers today.
As one of its 10 federal legislative priorities, ACTFL endorses immersion and language study abroad as a key compo­nent of a well articulated and continuous sequence of language study. In a position statement regarding Study Abroad and International and Community Experience (May 2007), ACTFL asserts that going beyond our borders is critical for all Americans but essential for teachers of languages. The statement further adds that an immersion experience that focuses primarily on measurable linguistic and cultural gains should be a requirement of language teacher preparation programs. Furthermore, ACTFL encourages language programs at all levels to secure financial support and seek international interac­tion between students and teachers abroad, participate in exchange programs, and design service learning opportunities for students to connect with other cultures in their own communities.
Understanding the relationship between language, culture, and society in the teaching process is indispensable. Living the language through a study abroad program develops increased self-confidence in using the target language, helps us better understand our own cultural values and beliefs, influences interactions with people from different cultures, and reinforces our work as world language educators as it opens the doors to new ideas and philosophies.
Although you have just begun your school year, it is not too soon to include a study abroad experience as part of your professional development plan for next summer! Read what your colleagues have to say about their own experiences abroad and its impact on their approach to language teaching in the "So You Say" section in this issue of The Language Educator on page 56.
There is so much we can learn from the world around us. If you haven't already done so, I encourage you to take advantage of any opportunities for extended study in a country where the language you teach is spoken natively. It will change your life and add to your teaching experience by shaping your own cultural identity and your view of the world. You will no doubt find yourself a more effective intercultural leader in our increasingly interconnected society." -Janine Erickson, the Language Educator, October 2009, page 7.